[ad_1]

"Dangerous Liaisons but it's teenagers" gets a 1990 jukebox musical reboot with it Cruel Intentions: The 90's Musicalwhose spectacular sets and occasional nudity serve an unforgettable feast for your eyes as well as your ears.
The French sex novel from 1782 Les Liaisons Dangereuses spawned a 1987 Tony-winning play of the same name, which spawned the 1988 film Dangerous Liaisons which won three Oscars. That story was retold in the 1999 Sarah Michelle Gellar-Ryan Phillippe film Cruel intentionsA low-budget smash hit that launched the film careers of Reese Witherspoon and Selma Blair.
And this sex-drenched franchise has banged out yet another incarnation with Cruel Intentions: The 90's Musicalan off-Broadway hit now playing at the Victoria Theater until October 1st. It's a production by Ray of Light Theatre, the musical theater group that has previously transformed the, erm, well-aged 115-year-old Victoria Theater stage with electrifying sets in productions such as Kinky Boots and their all-female Jesus Christ Superstar.
And they did it again Cruel Intentions: The 90's Musical, a satirical sex comedy about insanely privileged private sex pots and high school virgins, with the former plotting to lure the latter into their camp. Set designer Matt Owens' imposing LED-lit Roman arches with window columns are sure to draw comparisons to the opening credits of The Muppet Show. Still, the actors are intermittently placed through various arcs in a way that keeps this set fresh and fascinating throughout the nearly two-hour show, and there are other dazzling visual effects goodies sprinkled throughout the show.
In the role of Ryan Phillippe (Sebastian), Jake Gale shows that he can play a horrible narcissist not as charmingly as he played the aw-shucks hero in Kinky Boots. Chelsea Holifield makes the role of Sarah Michelle Gellar (Kathryn) cruelly and deliciously her own. But the most comically gifted cast member is Anne Norland in the awkward ingénue Selma Blair part (Cecille), although her role is unfortunately reduced in the second act.
And it's PG-13, folks, because we see a little ass in this show.
But about this "90's Musical" business…it's more of a "90's Bubblegum Pop Musical." The 1990s were a musically glorious period where the underground stormed the mainstream – with greats like Nirvana, Alanis Morissette, and the Pixies/Breeders, and hip-hop breakthroughs like the Fugees, Notorious BIG, and the Wu-Tang Clan. You will not hear such greatness in this jukebox musical score.
You will instead hear the disposable ditties of Christina Aguilera, No Doubt, and Jewel. A few songs here are delivered with a healthy sense of irony and mockery (NSYNC's "Bye Bye Bye" and TLC's "No Scrubs" are especially funny). The score prompts a number of spontaneous audience chants, but just as many groans.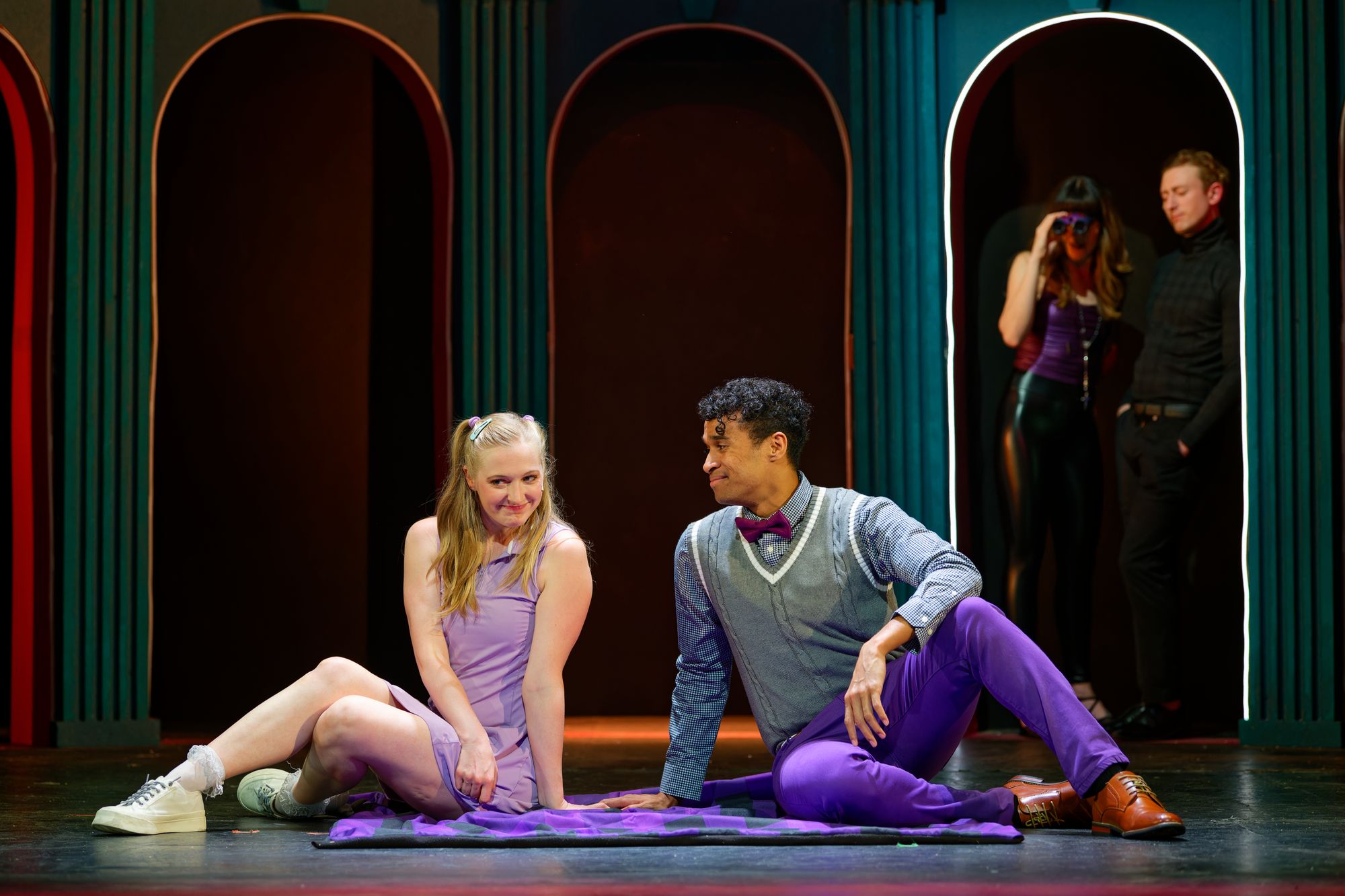 Maybe that's the point, if Cruel Intentions: The 90's Musical is just tongue-in-cheek silliness throughout. But it is a three-star show that could have been a four-star show, because it chooses to serve cotton candy when it could serve filet mignon.
At critical points in the plot, especially the climax when the anti-heroes have their changes of heart and rise, there is never any emotional exploration of why the characters had second thoughts. The script simply shoehorns the actors into another somewhat thematically connected 90s pop number, opting for sing-alongs instead of character development.
It's great fun but not memorable because the book by Roger Kumble (who directed the 1999 film) avoids any attempt at character depth. Emotionally, this stage musical reboot of Dangerous Liaisons choose to play it safe.
Cruel Intentions: The 90's Musical runs Wednesday-Saturday through Oct. 1, 8 p.m., at the Victoria Theatre, 2961 16th St., $20-$70, tickets here
Related: 'Hippest Trip: The Soul Train Musical' Begins Its Excitingly Nostalgic Pre-Broadway Run at ACT (SFist)
Image: Cruel Intentions cast by Job Bauer, via Ray of Light Productions
[ad_2]

#Cruel #Intentions #90s #Musical #brings #sexy #sardonic #romp #Victoria #Theatre