[ad_1]

One of Voice to Parliament's most prominent supporters says the comments he made have been misinformed and that he did not call No voters racist, but that the No side's tactics were "based on racism and stupidity".
Debate over his comments dominated question time on Wednesday.
Key points:
Professor Langton says No side's tactics are based on 'racism and stupidity'
Ms Ley has branded the comments "un-Australian".
Ley denies having misinterpreted the comments
Professor Marcia Langton, an Indigenous elder and academic, said she was responding to a voter's question at a Western Australian regional forum about whether Indigenous Australians would be entitled to compensation if the Voice referendum is passed.
His comments were originally reported in the Bunbury Herald and The Australian, where he said they had been "misreported" and had inaccurate headlines.
She told the forum:
"Every time the No cases make their arguments, if you start picking them apart you get to basic racism, I'm sorry to say that's where it lands, or sheer stupidity.

"If you look at any reputable fact-checker, they all say the No case is substantially false, they're lying to you."
Professor Langton said reports and headlines suggested his comments were referring to No voters, when they were directed at No activists.
"The claims made (by) the No campaign are based on racism and stupidity and that is a completely different type of statement," he told Radio Nacional.
"I'm not the only person who has noticed that the No campaign uses fear over facts to scare Australians into voting No."
On Tuesday, the ABC obtained a training video of No volunteers who were asked to refrain from identifying themselves as being from the No camp when cold calling to avoid "scaring people".
The script provided by Advance Australia, the organization representing the No camp, included a phrase that the Voice designers "want to use to push for compensation and reparations through a treaty."
'I have not misinterpreted Professor Langton's comments': Ley
During question time on Tuesday, Deputy Opposition Leader Sussan Ley asked Indigenous Australians Minister Linda Burney about Professor Langton's comments, quoting them from both newspapers.
"Moments before question time, the Australian and the Bunbury Herald reported that Professor Marcia Langton accused No voters of opposing the referendum out of 'basic racism or sheer stupidity'. Will the minister for Indigenous Australians condemn the comments by Professor Langton?" said Mrs. Ley.
Ley described Langton's comments as "un-Australian" and denied misquoting her.
"I have not misinterpreted Professor Langton's comments," he said.
"She's not talking about tactics, she's talking about racism and stupidity being at the heart of the No campaign.
"His defense seems to be that he's not saying that people who vote No are racist or stupid… he's saying that the arguments they use are racist and stupid.
"I would recommend everyone to look at those comments and feel that level of insult for themselves."
Opposition Leader Peter Dutton took to Instagram to post a photo of Marcia Langton with Prime Minister Anthony Albanese using The Australian's headline that read "No voters branded 'racist and stupid' by prominent activist Marcia Langton" .
"The strangest whispers coming from marginal areas"
In parliament, Ms Burney and the government faced multiple questions from the Coalition about Professor Langton's comments.
One question highlighted Professor Langton's other landmark comments in which she labeled social workers as "generally white and racist", as reported by Sky News.
In each response, the minister set out her response to what Australians will vote on on October 14.
"I have faith that the Australian people will respectfully participate in this debate," he said during question time.
"Walk in each other's shoes, approach this referendum with empathy and compassion for each other."
The government took the opportunity to accuse the opposition of supporting a campaign based on disinformation.
Attorney General Mark Dreyfus said of Dutton that "any opposition leader with an ounce of decency" would distance himself from the No campaign with "a strategy based on misinformation and deception".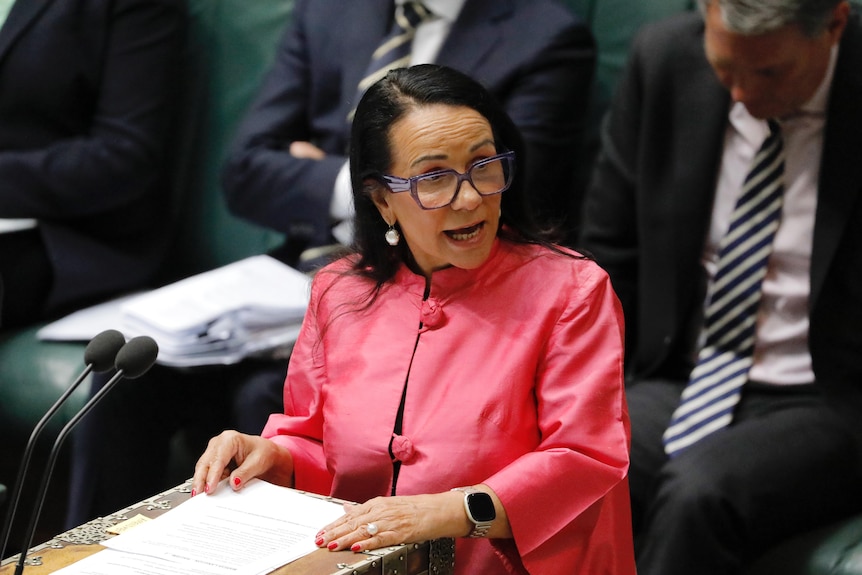 Treasurer Jim Chalmers accused the Liberal leader of taking "the strangest whispers from the far fringes of social media" and "legitimizing and amplifying them" in parliament.
Other opposition questions focused on whether there was a treaty within the proposed Voice.
Burney said Australians would vote Yes or No on: "the establishment of an advisory body and that body will advise the government and this parliament."
He said Voice will be "good for the country."
Government Services Minister Bill Shorten rejected suggestions that people considering voting 'No' were racist.
"I think a lot of people who may be thinking about voting No are definitely not racist," he told ABC.
"There are some people who vote No and have really outdated opinions, but you can't just categorize one side and all the against voters and present them as just saying they're bad people, because I don't believe that."
[ad_2]

#Marcia #Langtons #racism #comments #included #Voice #debate #Question #Time