[ad_1]

The father of Sara Sharif, the 10-year-old girl found dead in her home last month, wants to "resolve the matter," his lawyer said.
Urfan Sharif, his partner Beinash Batool and his brother Faisal Malik traveled to Pakistan a day before police discovered Sara's body in Woking, Surrey, on August 10.
they were detained and arrested on suspicion of murder after returning to the UK on Wednesday night.
The trio landed at Gatwick Airport on an Emirates flight from Pakistan, via Dubai, and were taken to Guildford police station.
Surrey Police confirmed that two men, aged 41 and 28, and a 29-year-old woman are currently in custody.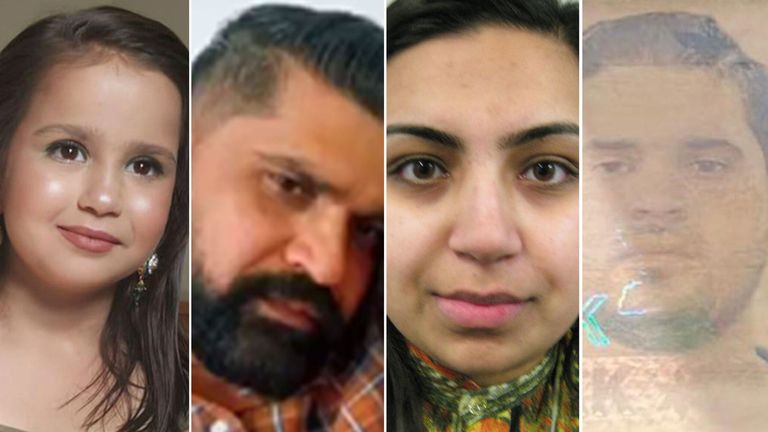 Sara was found dead in her home after a man who identified himself as her father called 999 from Pakistan.
A post-mortem examination carried out last month revealed that he had "sustained multiple and extensive injuries" which were "likely caused over a prolonged and prolonged period".
The cause of his death has not yet been determined, but an investigation has found that it was "probably not natural."
In a statement Thursday, the family's attorney addressed the footage and said they wanted to resolve the situation.
Attiq Malik of Liberty Law said: "As many are aware, a video was released outlining their concerns about the Pakistan Police and their intention to resolve the matters.
"They contacted us and the next step in resolving the matter is of course to return to the UK, the difficulty is that you cannot do that without being in contact with the authorities there.
"So the next step was just to facilitate his return."
He added: "We contacted the police here, we contacted several travel agents and, long story short, they have arrived.
"And the next step is to really resolve the issues, using the rule of law, and see what happens next."
[ad_2]

#Sara #Sharifs #relatives #detained #police #resolve #matter #lawyer #News