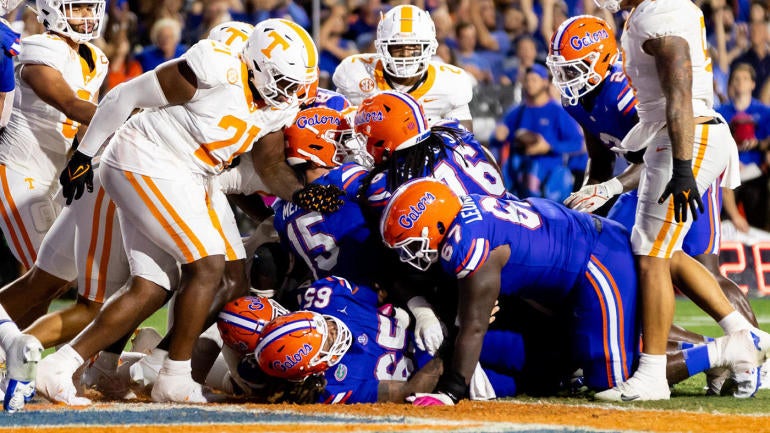 USATSI
The SEC suspended three Florida players and one Tennessee player following an on-field fight that occurred on the final play of the Gators' 29-16 victory over the Volunteers in Week 3.
Florida offensive linemen Damieon George Jr. and Micah Mazzccua, along with tight end Dante Zanders, will miss the first half of the Gators' next game: a home game against Charlotte on Saturday night. Tennessee defensive lineman Omarr Norman-Lott will also be suspended for the first half of the Vols' home game against UTSA on Saturday afternoon.
The suspensions follow a video review in conjunction with the SEC office.
The ugly incident began when volunteer defensive lineman Omari Thomas took a late hit on Florida quarterback Graham Mertz as he took a knee with four seconds left in the game. A push ensues before George emerges from the scrum and shoves Thomas. A few feet away, Mazzccua threw a punch at Tennessee defensive back Kamal Hadden. Norman-Lott could also be seen throwing punches amid the chaos.
Florida leapfrogged Tennessee to a 26-7 halftime lead, even though the Volunteers were close to being touchdown favorites in the matchup. The Volunteers haven't beaten the Gators at Ben Hill Griffin Stadium since 2003. The way Florida dominated from the moment the game started almost certainly led to frustration that led to the postgame skirmish.